Call us on 0423 225 053 to book or use our online form
Things to do near Stockton Beach House
Activities close by
For those who like to park the car and not drive often
The patrolled beach
The only thing between Stockton Beach House and the beach is Mitchell St and then 150m of grassed open reserve.
You can check out the map of Stockton and see all the open reserves and sporting facilities in the areas between Stockton Beach House on Mitchell St and the Stockton SLSC club – see https://www.google.com.au/maps/place/Stockton+Surf+Life+Saving+Club/
Tennis
25m to the tennis club,. There are 5 courts for day and night time games. The key for the tennis courts is held at the bar of the Bowling Club next door to the courts. You do need to bring your own racquets as the club does not hire out racquets.
Barefoot Bowls
75m to Stockton Bowling club. You can use the Clubs bowls and enjoy a fun afternoon having a go doing barefoot bowls. The Bowlo is licensed and has a Chinese/Australian restaurant ($8.50 lunches Mon to Sat) http://www.stocktonbowlo.com/
The Beach Precinct
Within 200 m of the beach house is:
Stockton Beach SLSC Club, lifeguard patrolled beach,
Stockton Beach's 2 large BBQ pavilions,
a well-equipped children's playground,
the popular beachside http://lexiesonthebeach.com.au/ café 'Lexies ",
hundreds of square metres of open reserve, Stockton's football oval for people who like to kick a ball and 2 concrete netball courts for those who like to skateboard or try out remote controlled toy cars.
Cycling, scooters and skateboards
Stockton has a 4km bike path which runs along the Hunter River from the Stockton Bridge down past the Ferry Wharf along the harbour's edge and goes along Stockton Beach's one kilometre breakwater and to Stockton Beach.
Road Cyclers
For serious bike riders there is a 60 km bike circuit route from Stockton to the Newcastle Botanical Gardens, to see the route refer to: https://cityofnewcastle.maps.arcgis.com/apps/webappviewer/index.html?id=3dbb6bedcd1444b9aaabe9cbecc58fd1
Skatepark
600m from the beach house.  The Skate Park has a concrete halfpipe; a linked street style skate park with 6 foot ¼ pipes on one end of the park; and an 8 foot bank on the other. Between these there is a volcano style ramp with adjoining bump and slider bar.
Swimming pool
600m from Stockton Beach House is a heated 50m pool and a toddler's pool. https://newcastlepools.com.au/stockton/
The Shipwreck Walk
This is a pleasant 1km walk along the Stockton breakwater.
Ferry Ride
Take the 3min Stockton Ferry ride across the harbour to Newcastle CBD where there are lots of dining options, cinemas, and shopping in Newcastle Mall. Take a walk around to the Newcastle ocean baths or take your bike across on the ferry and explore Newcastle city foreshore and beaches.
Beach walking
32 km of unbroken beach stretches from Stockton Beach to Birubi Point.
Fishing
Stockton is on a peninsular with the Hunter River on one side and the Pacific ocean on the other and Newcastle Harbour at the point. There are river, beach and breakwater fishing spots.
Cruiseability:   Hunter River, Harbour Cruises & Fishing Trips – wheelchair accessible vessel   
Cruiseability is a unique boutique cruising operation which caters for everyone including wheelchair users, the elderly and the physically challenged to enjoy. The vessel, Crown Mary Ellen lll, is 10.40m long and 4.0m wide – it has a fully accessible safe boarding platform board and side gate which provides a user-friendly layout. The owners, Cathie & Jonah, are happy to plan an itinerary to suit each group's particular interests. You can have a short 1.5 hour outing or a 5 hour trip – it is your choice. Cathie can be contacted on ph 0420 386 792 and more information on their services can be found at http://www.cruiseability.com.au/
Boat Ramps
Stockton's two boat ramps are both within one km of the beach house.
Surf Board Lessons
Dale from Stockton's Pirate Point Surf shop offers private and group surf lessons which are available 7 days a week all year round, simply him on PH: 0403108731.
Kayaking
You can learn how to kayak and can choose to go for a day trip up the Hunter River or just spend a few hours exploring the Newcastle harbour area. Glenn from the School of Yak will bring his trailer with a pile of kayaks to Stockton and you can launch from one of our  Stockton boat ramps. Glenn has both double and single kayaks and can take a group of 14. Glenn is happy to take young children with the family group. I did fitness kayaking for a few months with Glenn and it was a lot of fun and I do recommend him. You can call him on 0417421174 of check out his website http://schoolofyak.com.au/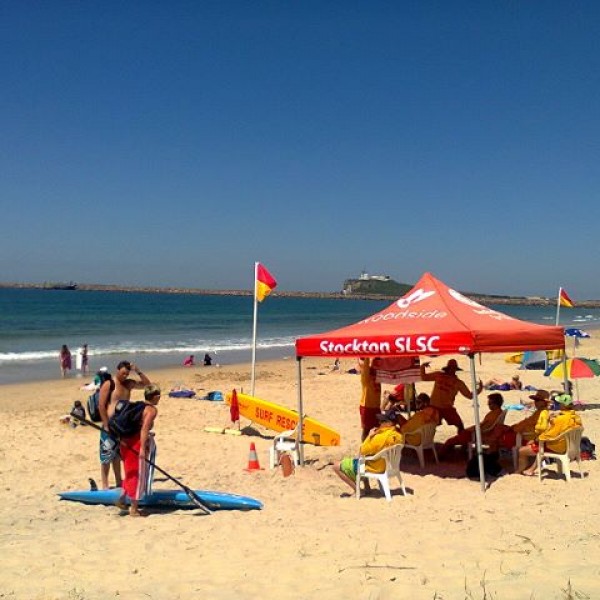 Day trips in the region
For those who like to use the car for the occasional day out
Golf – for the serious golfers
The house is close to 3 well renown Golf Courses.
Golf  Course for the less serious golfers
16km and a 20 mins drive away is the Shortland Waters Golf Club ph 02 4955 8169  http://www.shortlandwaters.com.au/
This club is noted for its friendliness and hospitality, is very suitable for people who are not highly skilled at golf and just want to have fun without serious competition. The dress standard at this course is more relaxed than the 3 clubs listed about..
Sand Dunes
4×4 driving and sand boarding. It is 16 km to the 4 wheel drive entrance to the Stockton Sand Dunes; and for sand boarding on the Dunes.You can also book a day on the dunes with Sand Dune Adventures who supply the boards for you. To check out the fun see http://www.sandduneadventures.com.au/
Go  Karting
Go Karts Go at Broadmeadow is 15km away. It has opened a 700m track which consists of a variety of fast straights, long fast corners and a good mixture of slower corners to test out the drivers.   http://www.gokartsgo.com.au/
RAAF Base and Fighter World Air Museum
(next to RAAF base)  A 16 km drive http://www.fighterworld.com.au/
Harbour Cruises
There is a local cruise operator which has lunch and dinner cruises in Newcastle Harbour. Nova Cruises http://novacruises.com.au/
Whale watching
Between May and November each year whale watching is a popular activity.  You can board a whale watching boat in Port Stephens. Both Moonshadow and Nova do whale watching cruises.
Moonshadow-TQC  Cruises:   www.moonshadow-tqc.com.au
Port Stephens
45 km north of Stockton, it is a great place for a day out and there are several cruise companies operating from the marina there.
Horse Riding
Sahara Trails Horse Riding, a 35 min 37km drive on the approach to Port Stephens, has horse riding for children and adults.  http://www.saharatrails.com/
Children from the age of 4, and absolute beginners, can do the bush trail rides. Children who are 2 or 3 can join the ride by using a special saddlemate which allows them to double up on a horse with an adult.
For people over the age of 14 there are beach trails where you ride along the coastline and the base of the towering sand dunes of the Worimi Conservation Lands.
Tobogganning
Toboggan Hill is a 40 min 45km drive towards Port Stephens.  http://www.tobogganhillpark.com/
Their website says that tobogganing is suitable for all the family as each toboggan is equipped with brakes so that you control the speed of descent, slow to thrilling.
Wine Tasting in the Hunter Valley
There is a vast array of boutique and large well known wineries in the Hunter Valley on a 120 km round trip from the Beach House. Guests can choose to do a self-drivetour of the wineries OR they can be picked up and delivered back to the Beach House and enjoy a guided tour of the wineries from the convenience of a 15 seater mini bus tour.
Segway Tours
You can enjoy an hour's tour (plus training time) on a guided segway Hunter Valley Vineyard tour. You can also try a Hunter Wetlands Centre Newcastle tour which is under a 20 min drive from the beach house – however the wetlands tour books out fast. There is a max of 8 people per tour (one adult must accompany child on tour) 11y/o – 80y/o, any gender, min 35kg – max 120kg . see http://www.eastcoastxperiences.com.au/segway_tours.php